What's New in Windows 10
Windows 10 is upon us and it seems as though Microsoft have been listening to the feedback they've received about Windows 8. Windows 10 aims to combine the best of Windows 7 and 8 in a revitalised desktop experience that will work consistently across a range of devices. And, it's free to upgrade from Windows 7 or 8.1!
Free upgrade
Yes, that's right, Microsoft want everyone to be running the latest version of Windows and so they've made the Windows 10 upgrade available for free. If you are currently running a compatible, up to date, non-volume licensed version of Windows you should have seen a notification in your task bar that you can click to register for your free upgrade. When Windows is available in your region it will download in the background and prompt you to upgrade when it is ready.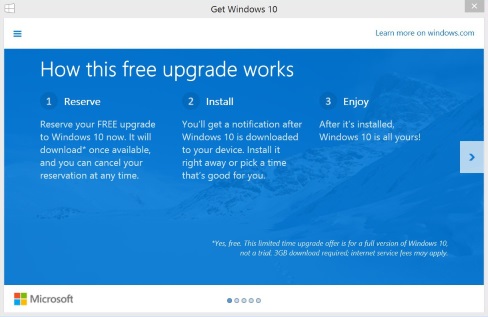 The Start Menu is back!
Walking back from the Start screen used in Windows 8, Microsoft have made the Start button in Windows 10 show a resizable Start menu that's a hybrid of the Windows 7 Start menu and Windows 8 Start screen. There's links to Explorer, Settings and Documents, your most used apps and smart tiles that you can arrange how you like. The Power options have also returned to the Start menu, meaning you once again press Start to turn your computer off, just the way it should be.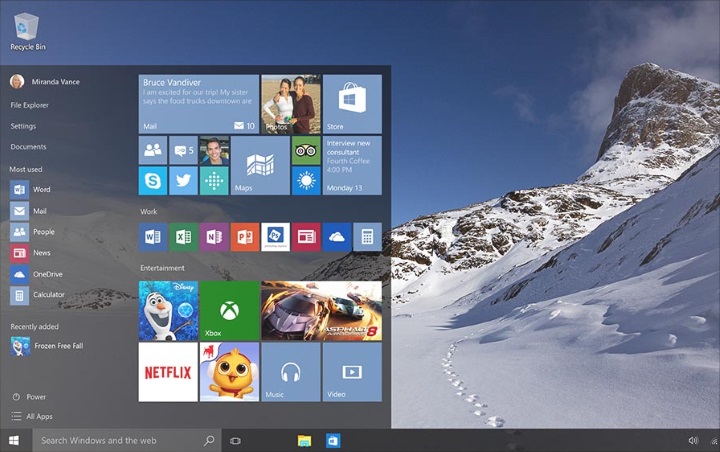 Cortana
Cortana is Microsoft's personal digital assistant, akin to Siri on Apple devices and Google Now on Android. Using Cortana in Windows 10 it will be possible to open programs, set reminders, search your files, search the internet or dictate documents to your computer using natural language or by typing into the search box on the taskbar.
New apps
Rather than forcing you to switch between modern and desktop user interfaces, apps in Windows 10 will now work the same across all devices. What were modern apps (such as the built-in photo viewer and PDF viewer) in Windows 8 will now run alongside standard programs in Windows 10 on the desktop. Microsoft have unveiled a suite of new apps, including a universal, cut-down Office for Windows, new Maps, Photos, Mail, Calendar, Music and Videos apps and a new Internet browser.
A new browser
Microsoft have created a new browser called Microsoft Edge using the latest technology and taking cues from the competition. This new browser should be much faster and support more modern websites as well as having new features such as social sharing, website annotations and a reading view for distraction-free reading or saving pages to read later. It also has Cortana integration to enable you to do common tasks (such as making a reservation or finding reviews) without leaving the page you're on.
Settings and notifications
You may have noticed that settings were somewhat fragmented in Windows 8, with some accessed via the control panel and some via the Charms bar. Ditto with some notifications popping up at the top of the screen and some popping up in balloons. In Windows 10 these should be more unified and streamlined making it much easier to find what you're looking for, although the Control Panel still exists for some less-used settings.
Task View and virtual desktops
Next to the search box on the taskbar is the Task View button. Pressing this will show open programs that you can switch between as well as the option to create new virtual desktops.
Virtual desktops are very handy if you have a lot of windows open and want to group them into two or more screens. For example, you could have one set of documents tiled on one virtual desktop and a set of spreadsheets on the other, or you could create a new virtual desktop for screen sharing or recording without having to close all of your programs. Virtual desktops can be switched between using the Task View or with hotkeys.
Continuum
This is one for the Surface tablet users. When using your tablet with a keyboard and/or screen it will work just like a Windows desktop and when you disconnect the keyboard the same app will automatically expand into fullscreen mode with larger buttons so that you can use it more easily with your fingers.
Gaming
Hey, it's not all about working hard! Windows 10 has incorporated a lot of the Xbox One ecosystem so that you will now be able to record and share your gameplay (or any screen activity, in theory), stream games from your console to your computer, compete against console players in the big-name franchises and use Xbox accessories plugged into your computer.
And the rest
There are a lot more new things that you will come across as you explore Windows 10. You can now copy and paste into the command prompt, the task switcher has been revamped and there are a host of small improvements that add up to make us quite excited about this new version.
We're currently working on updating our Windows 8.1 materials to Windows 10, so follow us on Twitter if you'd like to be notified as soon as they are released.