Microsoft SharePoint 2013
Although SharePoint has existed since 2001, it is a misunderstood technology and sadly, many organisations use it today simply as a glorified file share. However, SharePoint is NOT just a utility tool for business users to store, manage and share content in a centralised repository. It can automate business processes, provide better reporting, facilitate collaboration, and much more.
So, what is this thing called SharePoint?
Far beyond being a single application, SharePoint in fact comprises a suite of relatively full-featured apps. These include:
content management
enterprise social networking
intranet, extranet and portal creation
collaboration tools
project and workflow management
business intelligence
enterprise search
What can SharePoint do for a business?
SharePoint can provide a number of benefits for organisations. For instance, SharePoint can be used to:
Efficiently find, store, manage, track changes to, and reuse content because documents are created, shared and maintained in one central location instead of on hard drives, file servers and through email
Provide easy, but controlled access to information that helps employees make decisions and do their jobs better because SharePoint can access information across various business applications and present it in a dashboard view that is specific to what a division, department or user needs to see
Help teams collaborate more effectively through spaces where they can work together and by enabling them to find and engage with experts around the organisation
Automate processes while ensuring nothing falls through the cracks using SharePoint's workflow management, which initiates, tracks and reports on common business activities such as document review and approval, issue tracking and signature collection
Help meet regulatory requirements around access to sensitive business information by leveraging SharePoint's security settings, storage policies, auditing policies, and information rights management policies
Communicate with employees more efficiently and enable them to find and create social communities with others via SharePoint's newsfeeds, community sites, follow buttons, rankings and hashtags
Create a dynamic, personalised and holistic workspace that enables employees to see necessary applications, reports and location-specific announcements or events, including information that is relevant to day-to-day activities (such as outages or emergency alerts, lunch menus, traffic, etc.)
Streamline IT by replacing disparate technology solutions with one unified, standard technology platform that is efficient and easy for the IT team to maintain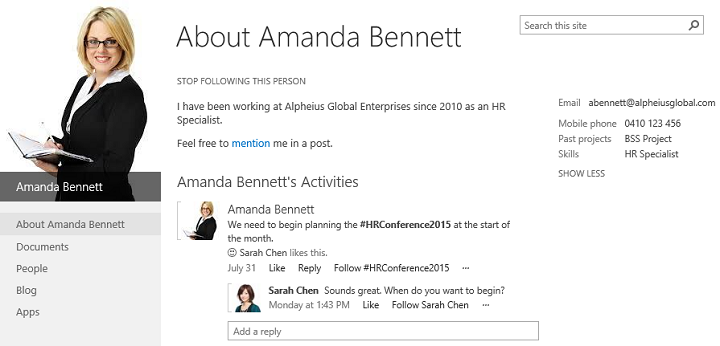 Different levels of access for different people
SharePoint is a huge and diverse product.
Not all users in an organisation will require access to everything in a SharePoint site to do their job. Some users will need to create documents in a specific library, others may need to approve documents, many others will require read only access, a few will need to be able to create content as well as libraries and subsites, and so on.
Although it appears as if no two users would require the same permissions, there are several common levels of access that users need, including Read, Edit and Full Control. Recognising this, SharePoint automatically creates various default groups (each with a specific permission level assigned) when a new site is created and it is into these (as well as any other security groups that your site requires) that users are added to provide them with the appropriate permission levels.
Why have we produced several SharePoint manuals?
SharePoint just gets bigger with each version. So with SharePoint 2013, we have expanded our courseware to provide three manuals, one for users belonging to each of the three main default security groups: Visitors (Read permission level), Site Members (Edit permission level) and Site Owners (Full Control permission level).
The first manual, Microsoft SharePoint 2013 - For SharePoint Readers (product code INF1430), describes the functions that users with the Read permission level can perform. This includes introducing SharePoint and its features; how to navigate SharePoint sites; viewing documents, list and libraries; searching in SharePoint; using the social networking features and OneDrive for Business; and working with personal My Sites.
The second manual, Microsoft SharePoint 2013 - For SharePoint Readers and Authors (product code INF1431), describes the functions that users with the Edit permission level can perform. Because users with Edit permissions include all functionality of Read permissions by default, this manual contains all chapters from the previous manual in Part 1. Part 2 describes how to create and edit content, lists, libraries, calendars, views and pages, as well as how to create and work with simple workflows.
The third manual, Microsoft SharePoint 2013 - For SharePoint Readers, Authors and Site Managers (product code INF1432), describes the functions that users with the Full Control permission level can perform. This manual comprises three parts, the first two parts containing the Readers' and Authors' chapters respectively. Part 3 covers custom workflows; document management; creating team, project and community sites; customising search; and managing security.